A long tradition in automatic systems
With nearly 20 years in the business, AP2 is able to offer its experience as a System Integrator in numerous markets ranging from rubber to plastics, from coating lines to calendering lines, including also lines for the building of tires.
The AP2 team is deliberately oriented to purely technical aspects and employs experienced and motivated personnel accustomed to working with both Italian and international clients.
The vocation of AP2 is focused on customer service.
AP2 is a System Integrator capable of providing turnkey automation systems based on all main platforms:
- Siemens
- Rockwell
- Omron
- Control Techniques
- Parker
- Mitsubishi
- Schneider
The entire production of AP2 is carried out by in-house personnel, thus ensuring high standards of quality in all stages of production:
- Hardware Design
- Software Design
- Testing
- Start-up
From design to realisation
The solutions we offer cover all the activities needed to supply "turnkey" automation of a process, and include specifically:
- Drawing up the electrical specifications in close contact with the manufacturer of the mechanical process
- Hardware Design and drawing up the circuit diagrams
- PLC Software Design
- HMI Software Design and related interfaces for factory management systems
- Building electrical panels and any necessary external wiring
- In-house testing with the customer's participation, if desired
- Commissioning
- Production and Product Engineering Support
- Remote Support by means of a VPN on a Dedicated Server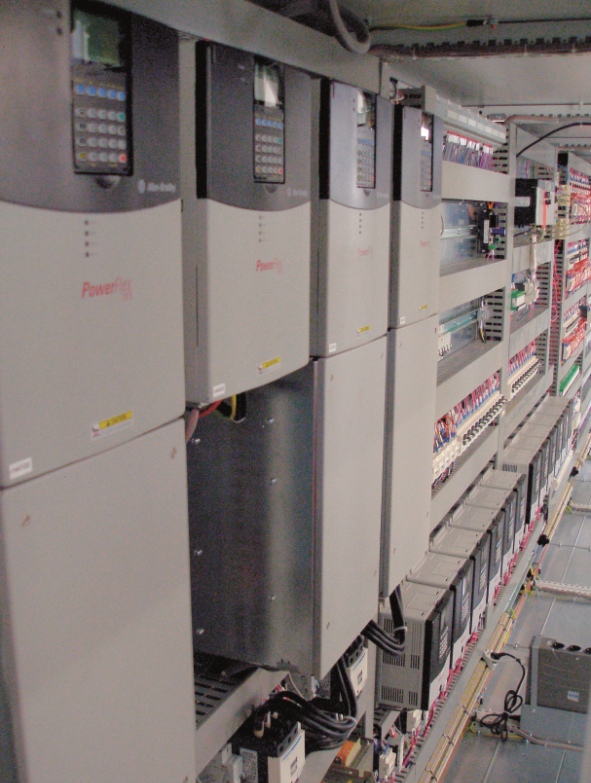 Realisations
Within the various Fields of Application, the systems we have developed over a nearly 20-year period cover the entire production chain and can be classified mainly in function of the type of raw materials involved.
- Mixing lines
- Extrusion lines
- Calendering Lines
- Embossing lines
- Cutting lines
- Semi-finished Production lines
- Tire Building lines
- Air Bag Production lines
- Fibreglass Production lines
- Lines of Impregnation and Drying
- Printing lines
- Coating Lines for Technical Textiles
Our added value is our experience, which translates into the:
- Reliability of the solutions used
- Use of hardware platforms in line with the knowledge/requirements of the end customer
- Standardisation of the PLC and HMI programs
- Reduction of commissioning times
- Reduced machine downtime thanks to remote diagnostic assistance
Video